Knowledge and Responsibility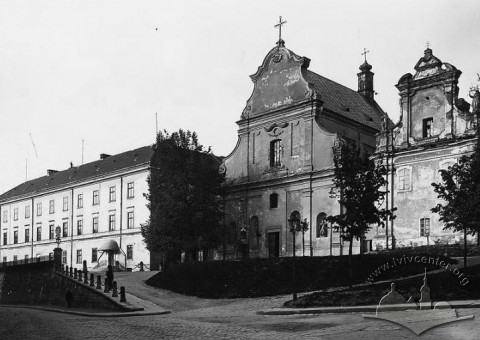 Secondary and higher education system faced significant challenges on the home front in towns and cities. Schooling was disrupted during four academic years, schoolchildren and students were deprived of systematic training. It was common to get senior schoolchildren and recent graduates to give lessons in schools and gymnasiums (preparatory high schools) due to a large number of teachers mobilized. This brought about the notion of "pseudo-education" during the wartime.
The situation in Eastern Galicia was further complicated by the fact that the region was in the midst of the fighting, settlements were taken over in turns by Austrian and Russian armies.
Because of its proximity to the front, many schools in Lviv turned into hospitals and infirmaries, also into shelters for refugees. Austrian POWs began to return to the city after the revolutions in the Russian Empire. In order to accommodate a large number of people, the government vacated the premises of school and gymnasium buildings. As of February 25, 1918, newcomers occupied 17 school buildings.
University management, fearing a possible attack on the city, ordered to transfer all valuables and important documents to the basement on September 3, 1914, before the arrival of Russian troops in the city. During the war, the university building was not damaged, unlike the main building of Politekhnika (short for Lviv Polytechnic, Polytechnic School), which served as a military hospital for a long time. Then almost all wooden furniture in the school was burned for heating homes. Interiors of halls and museum collections were lost.
Russian occupation of the city posed a considerable challenge for scientists. According to the decree of Georgiy Bobrinsky, Governor-General of Galicia and Bukovina, all Ukrainian and Polish books that had not passed Russian censorship, were removed from city libraries and their sale was banned. Some bookstores, including the Shevchenko Scientific Society bookstore, were closed. The city archives were among few places that still continued to work. Aleksander Czołowski, Franciszek Kowaliszyn, Bohdan Janusz and Józef Białynia Chołodecki were the historians who worked there.
Knowledge and Responsibility