Soup Kitchens and Charity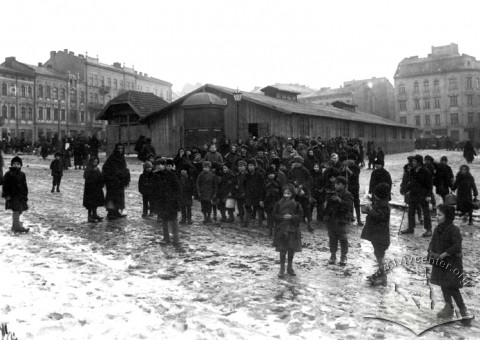 In the face of widespread impoverishment of the society, charities and professional associations sought for a way to reduce food shortages. They launched a fund-raising campain to open public canteens where people could eat cheap lunch, drink tea and warm up. The so-called cheap and free soup kitchens were meant to feed diverse clients such as officials and intellectuals, workers and students, and the urban poor. By the end of 1914, there were 78 soup kitchens in Ukraine, which served an average of 38,000 meals daily, including up to 1,300 paid ones.
Between autumn 1914 and summer 1915, soup kitchens received a great support from Vice President of Lviv Tadeusz Rutowski, who provided assistance to the municipal facilities. Lvivites highly appreciated his support and when in November 1915 Mr. Rutowski suffered imprisonment in Russia, he had Teatralna Street renamed into his honor. In the summer of 1915, Austrian authorities regained control over Lviv and local soup kitchens underwent partial restructuring. They were divided into three categories, many were closed down due to cholera outbreak, certain ones were renamed into "military kitchens." Extensive charity campaign made it possible for soup kitchens to operate until war's end.
Soup Kitchens and Charity