Children And Entertainment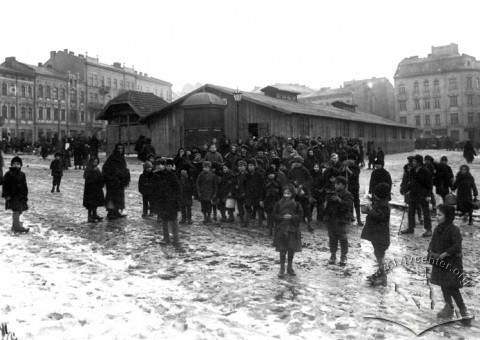 The war caused a surge in the number of street children. Having lost their family and livelihood, they begged and got into a real mess, ending up in the police department. Many boys followed the army. Eleven-year-old orphan Tadeusz Blachowski from Sambir arrived in Lviv with the soldiers, here he begged in the city. Others, like 13-year-old Mieczyslaw Granat, moved from one orphanage to another. After the Russian occupation his mother who was a nurse, moved to Kyiv, Mieczyslaw passed from one orphanage to another, which caused him to earn the nickname "Robinson Crusoe of Lviv" from the press.
Teenagers could easily get hold of real weapons in war-stricken Lviv. Almost daily boys got injured while playing with live cartridges and were taken to hospital. Children's war games also led to accidents. Boys threw stones at each other on a makeshift battlefield. Often these "shells" hit the "enemy" and passersby. Children were sent out of the city during the holidays to get some entertainment. Thanks to the city government and NGOs, many schoolchildren of Lviv could take rest in summer camps supervised by counselors.
In winter, Kiliński Park (now Stryiskyi Park) was a favorite recreational spot of Lvivites. Its snow covered slopes perfectly suited for skiing and sledding. Children sledded down sloping streets, causing hazardous traffic situations; they slammed into pedestrians, fell under trams and wheels of cars. Austrian authorities waged a bitter fight with sled lovers, thus one sledding on the roadway was liable to a fine of 200 kronen or to imprisonment for fourteen days. Parents who left their children without proper supervision were called to account.
Children And Entertainment